Main content
The Witterlist - 19th June 2020
We had documentaries, biopics, thrillers and historical dramas on this week's show, as Mark and Simon talked through the biggest releases to streaming services in the UK - and they talked to one of Britain's finest comedic minds, as his latest film became available to watch at home.
The Interview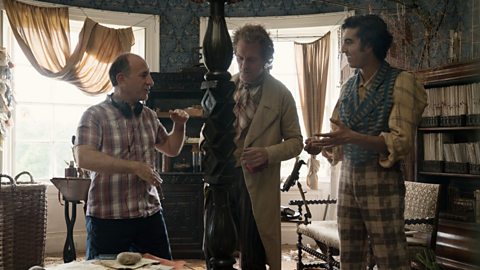 Mark Kermode & Simon Mayo talk to Armando Iannucci.
亚搏体育网站Armando Iannucci's adaptation of The Personal History of David Copperfield is now available to stream at home in the UK, and to makr the occasion he called into the show to discuss wanting to make a positive film that celebrates Britain, why Dev Patel was his only choice to play David Copperfield and how real life has become stranger than fiction.
Rubika Shah follows up her 2017 short film, White Riot: London, with this feature length look at the social and political climate that birthed Rock Against Racism. An energising, uplifting and in-depth look into a turbulent time in recent UK history that Mark was really moved by.
亚搏体育网站7500 is a thriller in the vein of (mostly) single location films like Buried and 127 Hours, with Joseph Gordon Levitt's pilot coming face-to-face with terrorists who hijack his plane. Mark didn't find it to be the most consistent film, but as a showcase for director Patrick Volrath's creative and cinematic flair within a confined space, it is pretty impressive.
亚搏体育网站It's hard to tell how much of Bruno Dumont's take on the Joan of Arc story is deliberately comical and how much is accidental, but even the parts that seem to be purposefully humorous seem tinged with scorn for the audience, with the director seemingly laughing at them, rather than with them. All the same, Mark found something arresting within what is a difficult and at times tedious film.
Jesse Eisenberg stars as a young, pre-fame Marcel Marceau as he worked with the French Resistance within World War 2. Mark found it overly theatrical for his tastes, but the fascinating, gripping story makes for compulsive viewing and leaves you wanting to know more.
Mark Kermode joins Simon Mayo to give his verdict on the week's movies.